The easiest link up, ever………..
Hopefully, by now you, are getting used to this easy peasy link up we've started. It really is the simplest of link ups to take part in, WHY? because all you have to do is find a post from your past, copy and paste the URL below. I know how good is that….
What we hope is that these posts will gain a little extra recognition and love, so don't forget give a little love to others linking up. We will try to read and share as many as possible to.
And because we don't like to miss out, here is one from our archive, Considering Home Schooling.
And here's the badge….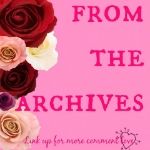 <div align="center"><a href="http://theadoptionsocial.com/category/from-the-archives/ " title="From The Archives"><img src="http://i1358.photobucket.com/albums/q775/puffindiaries/0073afc1-1250-4d3b-8dd6-9bd5c7733dbf_zpsd3fa798e.jpg " alt="From The Archives" style="border:none;" /></a></d