Hey, you there…got an old post that didn't get the love it deserved? Then bring it here and link right up!
From the archives is our simplest ever linky. Find an old post, copy and paste it into the form down there…yes, at the bottom of this post. That's it. To quote a 'friend', could it BE any easier?!
Oh, and if you fancy it, you could add our pretty badge to show all your readers that you join in (it'll magically link back to us here at The Adoption Social, and therefore help promote your fellow bloggers too!). So what are you waiting for?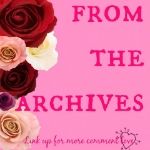 We like to join in this one too, so check out one of our older posts – Father and Son