Welcome back to our third week of Summer Sandpit. We're really enjoying seeing what you're getting up to, and taking inspiration to create our own activities too.
This week – with our theme of cooking – I'm delighted to bring you a guest post from Raisie Bay…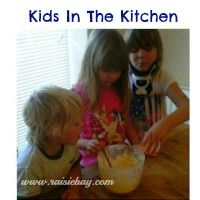 I'm Anne, the author of the blog www.raisiebay.com and I love cooking with my kids. I started a link­up weekly on my blog called Kids in the Kitchen to encourage others to share their easy recipes to make with the kids. I have three children, Star aged 8 years, Boo aged 7 years and the Little Man who is nearly 4. We have lots of fun and make lots of mess. Cooking with kids is not for the faint hearted, you have to let them get on with it and clean up afterwards…or better still get them to help you clean up! It's never to early to learn how.
Sometimes we all cook together and sometimes I have just one or two helpers, I just ask and see who wants to help.
I want to encourage my children to cook more not only because it's fun but to help them learn all about food preparation and what we eat. I don't have a complete ban on junk food, and I'll admit I'm the first to grab the chicken dippers or fish fingers after a busy day, but teaching my children about food will help them to choose healthier eating habits in the future. It's also a great way of getting your children to eat things they wouldn't normally eat. We all want them to eat more fruit and vegetables don't we? Well, I've found that they are more likely to eat them if they have been put into food they have made themselves. Cooking also offers other learning activities like weighing and numbers, and the science of what happens to food when its mixed or cooked.
By sharing our journey of cooking together with other parents I'm hoping we can encourage them to have a go themselves. Also, it's a great way of sharing recipes.
We have made lots of things together, like very simple but tasty mushroom quesadillas which are a favourite at lunch time in our house. You can see how we got on and find our recipe here.
We were really happy when we were sent some lovely Bahlsen biscuits to make things with, this post has a lovely video of the Little Man making delicious Chocolate Shortbread.
At Easter we made some lovely Hot Cross Buns which turned out really well.
As you can see, we have lots of fun and the children are learning all the time. We currently make more sweet things than savoury but we are working towards a more mixed menu. I'll have them cooking Sunday lunch in no time!
It sounds like Anne and her family have loads of fun in the kitchen – many thanks for writing a post for us! And now it's over to you – what cooking do you and your kids do? Does your child have a favourite recipe?  Do they help every day or just for specific recipes? Add your link below…