New Love for an Old Post………
It's been good to see people finding their old posts and linking up to From The Archives. It really is the easiest link up around. Hopefully, if you are joining in you are receiving a little bit of extra love for your old posts.
The best way to ensure you receive that extra love is to visit other post on the link up. It really is only polite to return the favour of visiting a blog if the blogger has taken the time to read your post. This really is one of the best ways to increase readership of your blog…reading and the commenting on other blogs.
So lets get on with it, I'm sure you all know what you're doing, link up below and you can also add then badge to your blog if you like.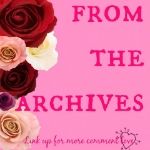 <div align="center"><a href="http://theadoptionsocial.com/category/from-the-archives/ " title="From The Archives"><img src="http://i1358.photobucket.com/albums/q775/puffindiaries/0073afc1-1250-4d3b-8dd6-9bd5c7733dbf_zpsd3fa798e.jpg " alt="From The Archives" style="border:none;" /></a></d